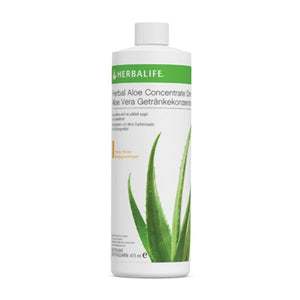 Herbal Aloe Concentrate - Mango Flavour 473 ml
Sale price Price £39.50 Regular price
Product Description

Made from the Aloe leaf, Herbal Aloe Concentrate is a refreshing drink which contains Aloe Vera juice to give water a refreshing citrus twist. Mango flavour with no artificial flavours or colours.
Key Benefits
Contains 40% Aloe vera juice which is derived from the whole Aloe vera leaf
The Aloe vera leaf is carefully picked and hand filleted to ensure the highest level of purity
The Aloe gel is extracted using cold processing which is the best way to achieve the highest quality of gel
Liven up your water with a refreshing taste to help you to achieve adequate fluid intake
Usage
Mix 3-4 capfuls (15-20 ml") with 125ml of water.